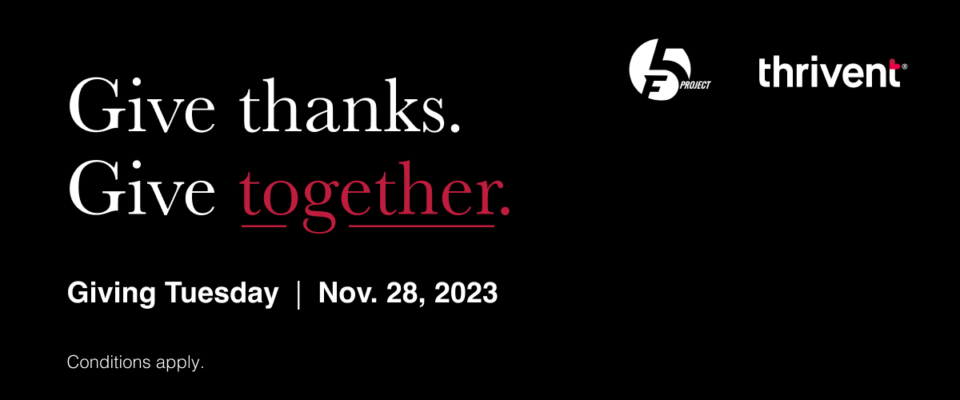 Giving Tuesday, November 28th, is an opportunity to make our community stronger, one act of giving at a time. And to make your giving go further, we're partnering with Thrivent! This year on Giving Tuesday, Thrivent will amplify your impact by matching $1 for every $2 raised. Plus, all online processing fees will be covered by Thrivent, meaning 100% of your gift will go right to our organization.
To celebrate, our team will spend the day at Thunder Coffee in West Fargo. The Thunder Coffee team has created a special, limited edition drink – Opportuni-TEA Latte! This cozy drink will be made of mint tea and honey ginger syrup with milk of choice and can be served hot or iced. Thunder Coffee has pledged to donate $2 to F5 Project for every Opportuni-TEA Latte sold. You can get this drink at either Thunder Coffee location (West Fargo or Downtown Fargo) starting on Monday, November 20th through Giving Tuesday, November 28th.

Also joining in on the fun, Dakota Property Services is donating $25 for every home or business that gets holiday lights installed from now through Giving Tuesday, November 28th. Don't stress about decorating your house with Christmas lights this year, let Dakota Property Services handle it for you! And when the winter is over, they will take down and store your lights so you can sit back and enjoy the holidays. Request a quote at DPSFargo.com or give them a call at 701-339-2063.
So get involved and donate this Giving Tuesday. You can celebrate from near or far as you follow along on social media! We'll be giving updates, sharing stories, and celebrating your giving as we aim to continue to move our mission forward.
Because of your giving, we can move our mission forward, faster.
We provide individuals struggling with incarceration, mental health, and addiction with services and resources to work towards the goals of breaking the cycle of crime, fostering healing, and restoring lives.
With your gift, we're able to provide support, encouragement, and physical items to the individuals in our F5 programs and beyond. The ability to meet these needs for each participant is vital to their success – and because of your donation, we can do that.
Your gift of: 
$22

covers a 15-day bus pass for transportation

$45

covers a hygiene necessity basket for a new housing participant who came to us from treatment or incarceration. (body wash, toothbrush and toothpaste, razors, deodorant, underwear, and a couple of basic t-shirts)

$80

covers the cost of treats that our team brings to our monthly jail meetings

$155

covers the cost of a temporary cell phone and one month of prepaid minutes for a participant to utilize when job hunting until they receive their first paycheck and purchase their own means of communication

$300

covers a new platform bed, mattress, and nightstand for one of our houses

$600 covers one month of housing program fees for an individual
Donate on Giving Tuesday here: https://thrivent.cotribute.co/events/854572/detail
*Donations made online to featured organizations through Thrivent's giving platform and at in-person events on Giving Tuesday, Nov. 28, 2023, will be matched $1 for every $2 donated up to $20,000 per Thrivent Member Network. Thrivent, in partnership with Thrivent Charitable Impact & Investing®, offers you the opportunity to make online personal donations to the organizations you care about.